Gemini News
Gemini Industries Inc. Honored as Gold Stevie® Award Winner in 2020 American Business Awards®
May 19, 2020
On May 18, 2020, Gemini Industries Inc. was named the winner of the 2020 Aerospace and Defense Company of the Year Gold Award.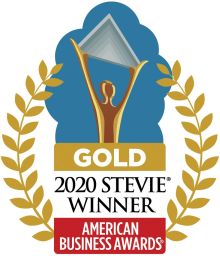 The American Business Awards® selection was based on Gemini's success "shaping innovative solutions across the full range of America's national security landscape. The company provided excellent customer satisfaction which sparked it's growth to operations at 20 locations in 10 states—and increased sales by 74%," according to the category's judges.
For over three decades, Gemini has been contributing to the nation's security by providing solutions from knowledgeable and experienced experts with an "ALL-IN" commitment to customer mission success. Imbued with founder Victoria Bondoc's fierce competitiveness and the company's "No-Fail/No Excuses" performance standard, Gemini's innovative and disciplined teams support a diverse national security client base in meeting the country's most complex security challenges.
The American Business Awards are the U.S.A.'s premier business awards program. All organizations operating in the U.S.A. are eligible to submit nominations – public and private, for-profit and non-profit, large and small. More than 230 professionals worldwide participated in the judging process to select this year's Stevie Award winners. Nicknamed the Stevies for the Greek word meaning "crowned," the awards will be virtually presented to winners during a live event on Wednesday, August 5. Tickets for the virtual event are now on sale. Details about The American Business Awards and the list of 2020 Stevie winners are available at www.StevieAwards.com/ABA.
Sponsors of the 2020 American Business Awards include John Hancock Financial Services, Melissa Sones Consulting, and SoftPro.