Gemini News
Gemini Honored at State House Special Event
May 6, 2016
Representative Kenneth I. Gordon hosted a Special Event at the Massachusetts State House to honor the contribution of Gemini to Massachusetts and its economic growth. Senator Michael Barrett, Chamber of Commerce Presidents James Murphy and Maureen Rogers, Jeff Popkin Founder and Gail Fine Executive Director of the Ellie Fund, and Mark Worster Entrepreneurs' Organization Boston Chapter Board Member joined Representative Gordon in honoring Gemini.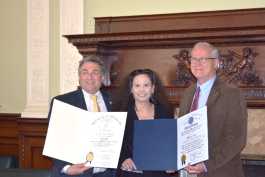 Representative Gordon and Senator Barrett presented Citations from the House of Representatives and Senate to Gemini President Victoria Bondoc and members of her team. "It's (Gemini is) an example for people to follow," said Gordon. "You don't have to accept any barrier that's put in our way if we work hard enough and have a good idea…It's important for the country, and it's important for Massachusetts."
The Program also included remarks from local Business and Community Leaders. "Although Gemini is a company on the cutting edge of innovation in the field of evaluating and developing technologies to support National Security, it also fully appreciates the importance of giving back to the community," said Jim Murphy North Suburban Chamber of Commerce President.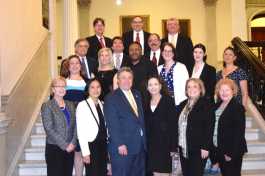 Gail Fine, Executive Director of the Ellie Fund discussed this appreciation in her remarks. "Victoria Bondoc and Gemini Industries have taken an active role in the Ellie Fund's efforts to alleviate the physical, financial and emotional side effects of breast cancer treatment, partnering in our patients' journey towards recovery and healing," said Fine. "We are deeply grateful for Victoria's compassion and dedication and congratulate her on this well-deserved honor."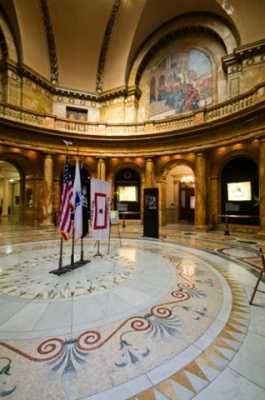 After the formal Program, Representative Gordon treated more than 50 guests and attendees to an informative session in the House Chamber. Many guests also elected a Tour of the State House and its collections.
Gemini helps organizations exploit cutting-edge technology strategies to advance their organization and its goals. Gemini has done this for Defense, Homeland Security, and critical National Security projects for 30 years; Gemini is beginning its next 30 by providing these services to private industry. Gemini is headquartered in Burlington and supports Hanscom AFB in Bedford. In addition, Gemini operates at 12 locations across the US and overseas.
Gemini Industries Inc. is an Equal Opportunity / Affirmative Action Employer. The company is committed to ensuring a workplace free of discrimination based on race, color, national origin, religion, sex, age, disability, genetic information, military or veteran status, and any other basis protected by applicable law.