Gemini News
Gemini Wins Chamber of Commerce Award
February 22, 2016
The U.S. Chamber of Commerce announced Gemini Industries Inc. of Burlington, Massachusetts as a winner of its annual DREAM BIG Blue Ribbon Small Business Award®. Gemini was selected from a record number of applicants from communities across the nation. They were judged in four key categories: strategic planning, employee development, customer service, and community involvement.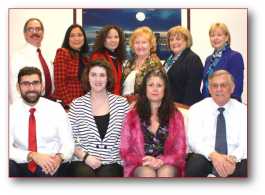 "Small businesses across America today face more economic and regulatory hurdles than ever before, but each of these outstanding companies is rising to the challenge," said U.S. Chamber President and CEO Thomas J. Donohue. "These Blue Ribbon Award winners have worked hard, taken risks, and achieved success, helping strengthen their communities and local economies."
Gemini will be honored at the America's Small Business Summit, which will take place in Washington, D.C.
"Small businesses provide a powerful example of what's possible in our free enterprise system. Day in and day out, these companies exemplify the strong American values of hard work, innovation, persistence, and entrepreneurship," continued Donohue. "The Chamber is proud to recognize these tremendous small businesses for all of their achievements."
The U.S. Chamber of Commerce is the world's largest business federation representing the interests of more than 3 million businesses of all sizes, sectors, and regions, as well as state and local chambers and industry associations.
Gemini Industries Inc. is an Equal Opportunity / Affirmative Action Employer. The company is committed to ensuring a workplace free of discrimination based on race, color, national origin, religion, sex, age, disability, genetic information, military or veteran status, and any other basis protected by applicable law.