Gemini News
NCR Team Celebrates 30th Anniversary
June 13, 2016
The 30th Anniversary Celebration in the National Capital Region honored achievements over the past 30 years and set the stage for the next Gemini chapter. Pedro Torres, Advanced Solutions Division Director, and his Project Managers created a tribute to Gemini President Victoria Bondoc and her journey to start and grow the company to operations across the US and overseas.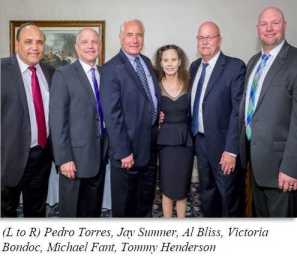 William (Jay) Sumner's tribute gave staff members, customers, partners and family members a look back through history including the Panama project supporting a US Military Police black market crime investigation, and the award of the $200 Million contract supporting US Special Forces. Michael Fant presented a Commonwealth of Virginia flag flown over the capital in Richmond, and an American flag flown over the U.S. Capitol in Washington DC, to recognize the 30th Anniversary.
On behalf of Gemini project teams in the area, Al Bliss and Tommy Henderson presented a Soaring Eagle to Victoria Bondoc. The eagle has long been associated with the US military as an emblem, and symbolizes strength, courage, freedom and immortality for generations.
The evening also set the stage for the future. Guest speaker Dr. Willie Jolley inspired the team with the "Will to Win." He challenged the audience to "Think Up, Show Up and Step Up" and reminded all that we have "New visions to create and goals to achieve, as we begin the next three decades at Gemini."
"It was a once-in-a-lifetime event that I will never forget," said Bondoc. "There are no words to express the honor, gratitude and affection that I have for the members of my team."
Gemini helps leaders make critical decisions and achieve their goals by exploiting cutting-edge technology and innovative strategies. Gemini has done this for Defense, Homeland Security, and critical National Security projects for 30 years. Gemini is beginning its next 30 by providing these services to private industry. Gemini is headquartered in Burlington, Massachusetts and operates at Hanscom Air Force Base in Bedford. In addition, Gemini operates at 12 locations across the US and overseas.
Gemini Industries Inc. is an Equal Opportunity / Affirmative Action Employer. The company is committed to ensuring a workplace free of discrimination based on race, color, national origin, religion, sex, age, disability, genetic information, military or veteran status, and any other basis protected by applicable law.