Gemini News
New Contract to Support Customs and Border Protection
April 8, 2016
Gemini's Advanced Solutions Division has received a new contract to support the Department of Homeland Security. Gemini will support Customs and Border Protection in the expansion of imaging systems and the supporting infrastructure.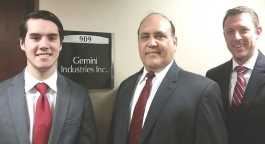 Gemini helps organizations exploit cutting-edge technology strategies to advance their organization and its goals. Gemini has done this for Defense, Homeland Security, and critical National Security projects for 30 years; Gemini is beginning its next 30 by providing these services to private industry. Gemini is headquartered in Burlington and supports Hanscom AFB in Bedford. In addition, Gemini operates at 12 locations across the US and overseas.
Gemini Industries Inc. is an Equal Opportunity / Affirmative Action Employer. The company is committed to ensuring a workplace free of discrimination based on race, color, national origin, religion, sex, age, disability, genetic information, military or veteran status, and any other basis protected by applicable law.