Gemini News
Red Carpet Gala Raises $300,000 for Charity
March 2, 2016
Gemini kicked off its 30th anniversary celebration at the Red Carpet Gala on Oscar Night. The Gala drew 370 guests and raised a record $300,000 for the Ellie Fund and its mission to provide essential support services to breast cancer patients to ease the stresses of everyday life, allowing the focus to be on family, recovery and healing.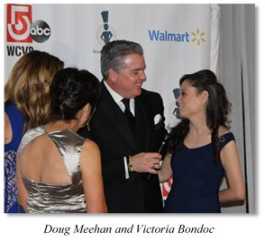 The 20th Anniversary Red Carpet Gala is the exclusive viewing of the 88th Academy Awards® Telecast in Massachusetts. WCVB-TV Channel 5 hosted the Red Carpet arrivals, speaking program and live auction.
Members of the Gemini team supporting Hanscom Air Force Base, from the Advanced Solutions Division in Florida, and from the Headquarters in Burlington MA honored Rose Award recipient Sue Brady and patient Mary Poor and her husband Jon.
"The Ellie Fund's 20th Anniversary is a significant milestone." said Gemini President Victoria Bondoc. "Luck and money will only take you so far. You must provide exceptional service and have a great organization to survive long term."
Gemini allows organizations to exploit cutting-edge technology strategies to advance their organization and its goals. Gemini has supported critical National Security projects for 30 years and is beginning its next 30 by providing their services to private industry.
Gemini Industries Inc. is an Equal Opportunity / Affirmative Action Employer. The company is committed to ensuring a workplace free of discrimination based on race, color, national origin, religion, sex, age, disability, genetic information, military or veteran status, and any other basis protected by applicable law.